About Primary Central Nervous System Lymphoma (PCNSL)
Cancer that forms in the lymph tissue of the brain, spinal cord, meninges (outer covering of the brain), or eye (called ocular lymphoma). Also called PCNSL and primary CNS lymphoma.
2 kinds of targeted drugs for the treatment of Primary Central Nervous System Lymphoma can be made in Laos
Targeted therapy
Targeted therapy is a type of treatment that uses drugs or other substances to identify and attack specific cancer cells. Targeted therapies usually cause less harm to normal cells than chemotherapy or radiation therapy do.
Tyrosine kinase inhibitors:
These small-molecule drugs go through the cell membrane and work inside cancer cells to block signals that cancer cells need to grow and divide. Ibrutinib is a type of tyrosine kinase inhibitor used to treat newly diagnosed or recurrent primary CNS lymphoma.
1, Ibrutinib
A drug used alone or with other drugs to treat adults with chronic lymphocytic leukemia, small lymphocytic lymphoma, Waldenstrom macroglobulinemia (a type of non-Hodgkin lymphoma), mantle cell lymphoma, or marginal zone lymphoma. It is also used to treat adults and children aged 1 year and older with chronic graft versus host disease. It is also being studied in the treatment of other types of cancer. Ibrutinib blocks a protein called BTK, which may help keep cancer cells from growing. It may also lower the body's immune response.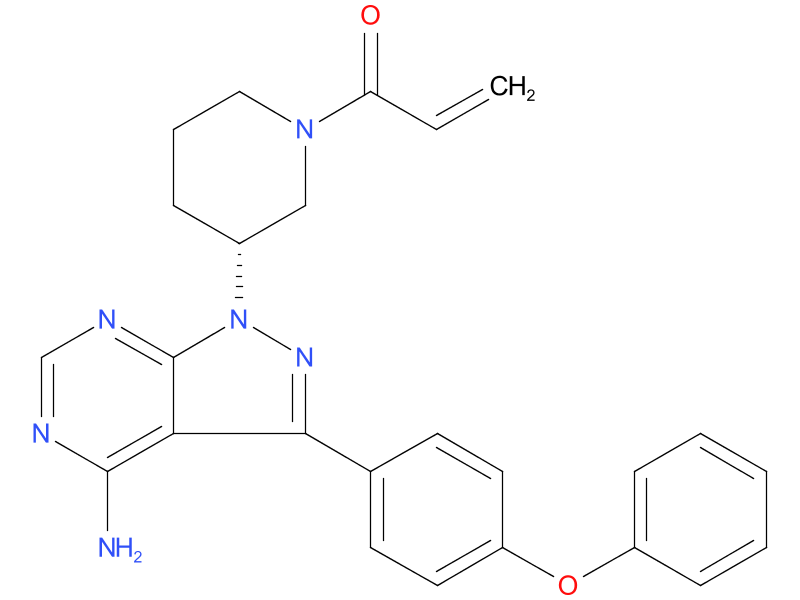 | | |
| --- | --- |
| Drug Profile | Ibrutinib is a small-molecule inhibitor of BTK. Ibrutinib forms a covalent bond with a cysteine residue in the BTK active site, leading to inhibition of BTK enzymatic activity. BTK is a signaling molecule of the B-cell antigen receptor (BCR) and cytokine receptor pathways. BTK's role in signaling through the B-cell surface receptors results in activation of pathways necessary for B-cell trafficking, chemotaxis, and adhesion. Nonclinical studies show that ibrutinib inhibits malignant B-cell proliferation and survival in vivo as well as cell migration and substrate adhesion in vitro. |
| Alternative Names | CRA-032765; IMBRUVICA; Imbruvica; ImBurvica; JNJ-54179060; PCI-32765 |
| Originator | Celera Genomics Group |
| Developer | Bristol-Myers Squibb; Celgene Corporation; Foundation GIMEMA; Genentech; Janssen; Janssen Biotech; Lymphoma Academic Research Organisation; National Cancer Institute (USA); Northwestern University; OHSU Knight Cancer Institute; Pharmacyclics; Sheba Medical Center; Singapore General Hospital; Stanford University Medical Center; Thomas Jefferson University; University Hospital Muenster; University of California, Davis; University of California, San Diego |
| Class | 2 ring heterocyclic compounds; Antiallergics; Antineoplastics; Antirheumatics; Phenyl ethers; Piperidines; Pyrazoles; Pyrimidines; Small molecules |
| Mechanism of Action | Agammaglobulinaemia tyrosine kinase inhibitors; Emt protein-tyrosine kinase inhibitors |
| Orphan Drug Status | Yes – Chronic lymphocytic leukaemia; Mantle-cell lymphoma; Graft-versus-host disease |
| Patent Information | There are forty patents protecting this compound and three Paragraph IV challenges. Ibrutinib has three hundred and thirty-four patent family members in forty-three countries. |
https://adisinsight.springer.com/drugs/800022023
2, Tirabrutinib
Tirabrutinib (brand name Velexbru) is a drug used for the treatment of autoimmune disorders and hematological malignancies.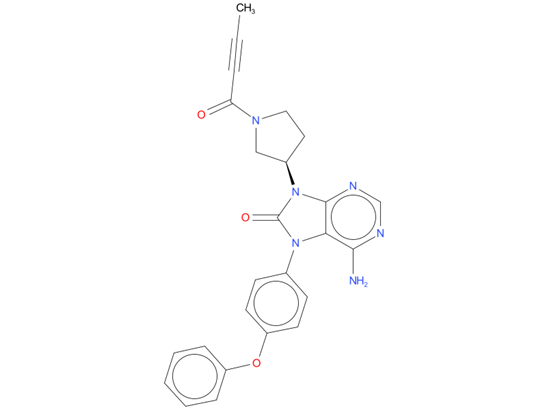 | | |
| --- | --- |
| Drug Profile | Tirabrutinib is a potent and selective Bruton's tyrosine kinase (BTK) inhibitor that irreversibly and covalently binds to BTK Cys-481 in B cells and inhibits aberrant B cell receptor signalling in B cell-related cancers and autoimmune diseases. |
| Alternative Names | GS-4059; ONO-4059; Tirabutinib hydrochloride – Gilead Sciences/Ono Pharmaceutical; Velexbru |
| Originator | Ono Pharmaceutical |
| Developer | Gilead Sciences; Ono Pharmaceutical |
| Class | Alkynes; Amines; Antineoplastics; Antirheumatics; Ketones; Phenyl ethers; Purines; Pyrrolidines; Skin disorder therapies; Small molecules |
| Mechanism of Action | Agammaglobulinaemia tyrosine kinase inhibitors |
| Orphan Drug Status | Yes – Waldenstrom's macroglobulinaemia; Lymphoma |
| Patent Information | Null |
https://adisinsight.springer.com/drugs/800036049
Contact us to help you access the Lao pharmaceutical industry
RxLibra started its entrepreneurial journey with the vision of advancing the Lao pharmaceutical industry and becoming a global company. RxLibra is the first company in Laos to focus on exporting life-saving cancer drugs to Asia, Africa and Latin America.

Click & Contact us 👇
---
The WTO's Council for Trade-Related Aspects of Intellectual Property Rights (TRIPS) :Under this license, the Lao pharmaceutical industry, as well as the pharmaceutical industry in similar countries(Bangladesh, Nepal, etc.), will be able to manufacture many drugs without patent authorization.

Reference:
《WTO members agree to extend drug patent exemption for poorest members》https://www.wto.org/english/news_e/news15_e/trip_06nov15_e.htm
《Product Patent Protection,the TRIPS LDC Exemption and the Bangladesh Pharmaceutical Industry》https://www.twn.my/title2/IPR/pdf/ipr17.pdf