About Anaplastic Large Cell Lymphoma (ALCL)
An aggressive (fast-growing) type of non-Hodgkin lymphoma that is usually of the T-cell type. The cancer cells express a marker called CD30 or Ki-1 on the surface, and may appear in the lymph nodes, skin, bones, soft tissues, lungs, or liver. Also called anaplastic large cell lymphoma.
2 kinds of targeted drugs for the treatment of About Anaplastic Large Cell Lymphoma can be made in Laos
Targeted therapy
Targeted therapy uses drugs to target specific molecules (such as proteins) on the surface of cancer cells. These molecules help send signals that tell cells to grow or divide. By targeting these molecules, the drugs stop cancer cells from growing and spreading while limiting harm to normal cells. Brentuximab vedotin (Adcetris) is a targeted therapy drug that targets CD30. It may be used along with chemotherapy to treat systemic ALCL that expresses CD30.
Tyrosine kinase inhibitors:
A substance that blocks the action of enzymes called tyrosine kinases. Tyrosine kinases are a part of many cell functions, including cell signaling, growth, and division. These enzymes may be too active or found at high levels in some types of cancer cells and blocking them may help keep cancer cells from growing. Some tyrosine kinase inhibitors are used to treat cancer. They are a type of targeted therapy.
1, Alectinib
Alectinib is an oral drug that blocks the activity of anaplastic lymphoma kinase (ALK) and is used to treat non-small-cell lung cancer (NSCLC). It was developed by Chugai Pharmaceutical Co. Japan, which is part of the Hoffmann-La Roche group.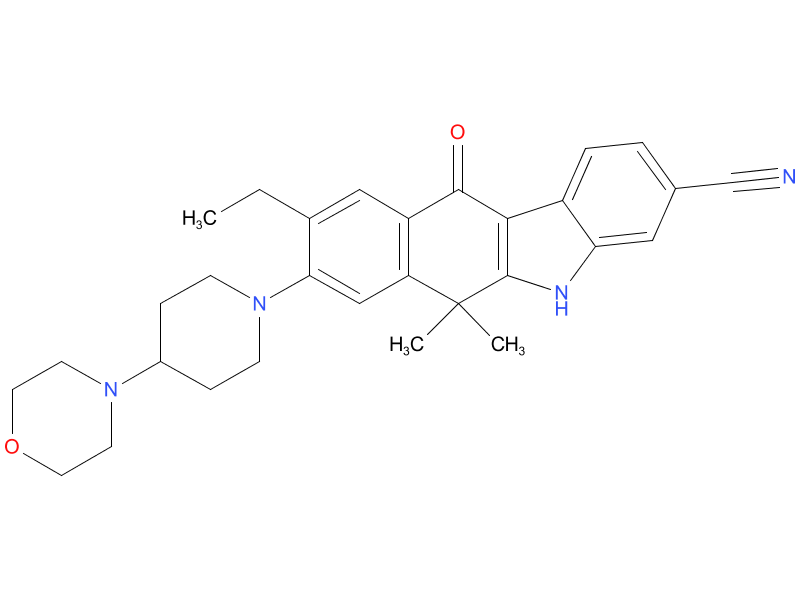 | | |
| --- | --- |
| Drug Profile | Alectinib is a tyrosine kinase inhibitor that targets ALK and RET. In nonclinical studies, alectinib inhibited ALK phosphorylation and ALK-mediated activation of the downstream signaling proteins STAT3 and AKT, and decreased tumor cell viability in multiple cell lines harboring ALK fusions, amplifications, or activating mutations. The major active metabolite of alectinib, M4, showed similar in vitro potency and activity. |
| Alternative Names | AF-802; Alecensa; ALECENSARO; Alectinib hydrochloride; CH-5424802; RG-7853; RO-5424802; RO-5452802 |
| Originator | Chugai Pharmaceutical |
| Developer | Chugai Pharmaceutical; National Hospital Organization Nagoya Medical Center; Roche; Seoul National University Hospital; University College London |
| Class | Antineoplastics; Carbazoles; Morpholines; Nitriles; Phenyl ethers; Piperidines; Small molecules |
| Mechanism of Action | Anaplastic lymphoma kinase inhibitors |
| Orphan Drug Status | Yes – Non-small cell lung cancer; Anaplastic large cell lymphoma |
| Patent Information | There are four patents protecting this compound. Alectinib hydrochloride has one hundred and twenty-three patent family members in thirty-eight countries. |
https://adisinsight.springer.com/drugs/800033151
2, Crizotinib
Crizotinib is indicated for the treatment of metastatic non-small cell lung cancer (NSCLC) or relapsed or refractory, systemic anaplastic large cell lymphoma (ALCL) that is ALK-positive. It is also indicated for the treatment of unresectable, recurrent, or refractory inflammatory anaplastic lymphoma kinase (ALK)-positive myofibroblastic tumors (IMT).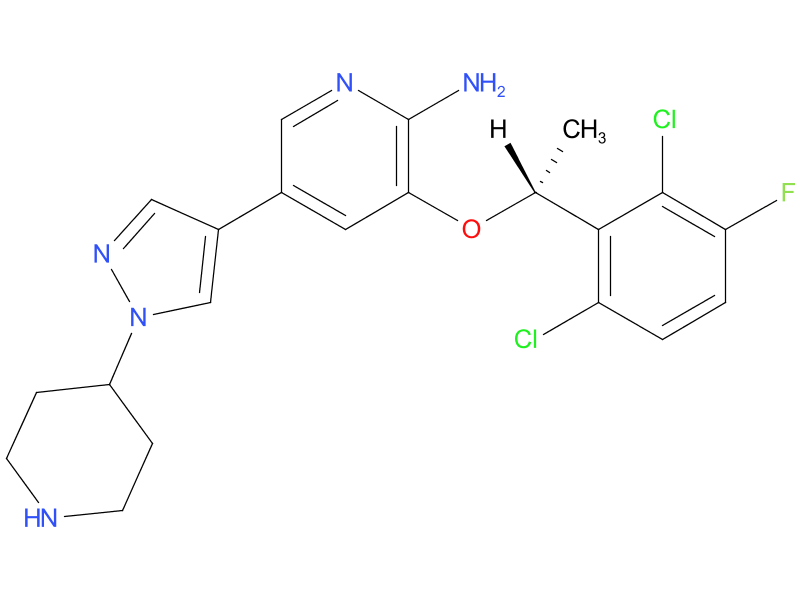 | | |
| --- | --- |
| Drug Profile | Crizotinib is an inhibitor of receptor tyrosine kinases including ALK, Hepatocyte Growth Factor Receptor (HGFR, c-Met), ROS1 (c-ros), and Recepteur d'Origine Nantais (RON). Translocations can affect the ALK gene resulting in the expression of oncogenic fusion proteins. The formation of ALK fusion proteins results in activation and dysregulation of the gene's expression and signaling which can contribute to increased cell proliferation and survival in tumors expressing these proteins. Crizotinib demonstrated concentration-dependent inhibition of ALK, ROS1, and c-Met phosphorylation in cell-based assays using tumor cell lines and demonstrated antitumor activity in mice bearing tumor xenografts that expressed echinoderm microtubule-associated protein-like 4 (EML4)- or nucleophosmin (NPM)-ALK fusion proteins or c-Met. |
| Alternative Names | PF-002341066; PF-02341066; PF-1066; PF-2341066; Xalkori |
| Originator | Pfizer |
| Developer | Astellas Pharma; Children's Oncology Group; Dana-Farber Cancer Institute; National Cancer Institute (USA); OxOnc Development; Pfizer; University of Colorado at Denver; University of Milan Bicocca |
| Class | Antineoplastics; Chlorobenzenes; Fluorobenzenes; Piperidines; Pyrazoles; Pyridines; Small molecules |
| Mechanism of Action | Anaplastic lymphoma kinase inhibitors: Proto oncogene protein c met inhibitors; ROS1 protein inhibitors |
| Orphan Drug Status | Yes – Neuroblastoma; Non-small cell lung cancer; non-Hodgkin's lymphoma |
| Patent Information | There are five patents protecting this compound. Crizotinib has one hundred and fifty patent family members in forty-seven countries. |
https://adisinsight.springer.com/drugs/800025630
Contact us to help you access the Lao pharmaceutical industry
RxLibra started its entrepreneurial journey with the vision of advancing the Lao pharmaceutical industry and becoming a global company. RxLibra is the first company in Laos to focus on exporting life-saving cancer drugs to Asia, Africa and Latin America.

Click & Contact us 👇
---
The WTO's Council for Trade-Related Aspects of Intellectual Property Rights (TRIPS) :Under this license, the Lao pharmaceutical industry, as well as the pharmaceutical industry in similar countries(Bangladesh, Nepal, etc.), will be able to manufacture many drugs without patent authorization.

Reference:
《WTO members agree to extend drug patent exemption for poorest members》https://www.wto.org/english/news_e/news15_e/trip_06nov15_e.htm
《Product Patent Protection,the TRIPS LDC Exemption and the Bangladesh Pharmaceutical Industry》https://www.twn.my/title2/IPR/pdf/ipr17.pdf