About Non Small Cell Lung Carcinoma (NSCLC)
Non-small-cell lung carcinoma (NSCLC) is any type of epithelial lung cancer other than small-cell lung carcinoma (SCLC). NSCLC accounts for about 85% of all lung cancers. As a class, NSCLCs are relatively insensitive to chemotherapy, compared to small-cell carcinoma. When possible, they are primarily treated by surgical resection with curative intent, although chemotherapy has been used increasingly both preoperatively (neoadjuvant chemotherapy) and postoperatively (adjuvant chemotherapy).
2 kinds of targeted drugs for the treatment of About NTRK fusion-positive non small cell lung can be made in Laos
Targeted therapy
Targeted therapy is a type of treatment that uses drugs or other substances to identify and attack specific cancer cells. Targeted therapies usually cause less harm to normal cells than chemotherapy or radiation therapy do. Monoclonal antibodies, tyrosine kinase inhibitors, and mammalian target of rapamycin (mTOR) inhibitors are three types of targeted therapy being used to treat advanced, metastatic, or recurrent non-small cell lung cancer.
NTRK Inhibitors:
A mutation (change) that occurs when a piece of the chromosome containing a gene called NTRK breaks off and joins with a gene on another chromosome. Neurotrophic tyrosine receptor kinase gene fusions lead to abnormal proteins called TRK fusion proteins, which may cause cancer cells to grow. Neurotrophic tyrosine receptor kinase gene fusions may be found in some types of cancer, including cancers of the brain, head and neck, thyroid, soft tissue, lung, and colon. Also called NTRK gene fusion.
1, Larotrectinib
A drug used to treat adults and children with certain types of solid tumors that have spread or cannot be removed by surgery and have the NTRK gene fusion. It is also being studied in the treatment of other types of cancer. Larotrectinib sulfate blocks the TRK protein, which may help keep cancer cells from growing and may kill them.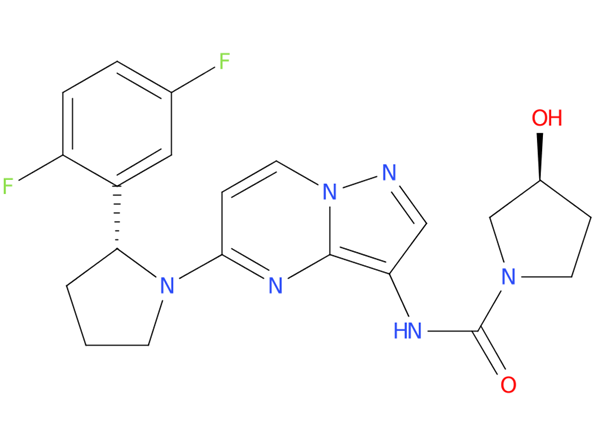 | | |
| --- | --- |
| Drug Profile | Larotrectinib is an inhibitor of the tropomyosin receptor kinases (TRK), TRKA, TRKB, and TRKC. In a broad panel of purified enzyme assays, larotrectinib inhibited TRKA, TRKB, and TRKC with IC50 values between 5-11 nM. One other kinase TNK2 was inhibited at approximately 100-fold higher concentration. TRKA, B, and C are encoded by the genes NTRK1, NTRK2, and NTRK3.Chromosomal rearrangements involving in-frame fusions of these genes with various partners can result in constitutively-activated chimeric TRK fusion proteins that can act as an oncogenic driver, promoting cell proliferation and survival in tumor cell lines. |
| Alternative Names | ARRY-470; BAY 2757556; Larotrectinib sulfate – Bayer/Loxo Oncology; LOXO 101; VITRAKVI |
| Originator | Array BioPharma |
| Developer | Bayer; Loxo Oncology; National Cancer Institute (USA) |
| Class | Amides; Antineoplastics; Fluorobenzenes; Pyrazoles; Pyrimidines; Pyrrolidines; Small molecules; Tumour-agnostic therapies |
| Mechanism of Action | TrkA receptor antagonists; TrkB receptor antagonists; TrkC receptor antagonists |
| Orphan Drug Status | Yes – Solid tumours; Soft tissue sarcoma |
| Patent Information | There are sixteen patents protecting this compound. Larotrectinib sulfate has one hundred and ninety-four patent family members in forty-eight countries. |
https://adisinsight.springer.com/drugs/800040495
2, Entrectinib
A drug used in adults to treat non-small cell lung cancer that has spread and is ROS1 positive and in adults and children aged 12 years and older to treat solid tumors that have certain changes in the NTRK gene. It is also being studied in the treatment of other types of cancer. Entrectinib blocks certain proteins involved in cell signaling and cell growth. Blocking these proteins may help keep cancer cells from growing and may kill them.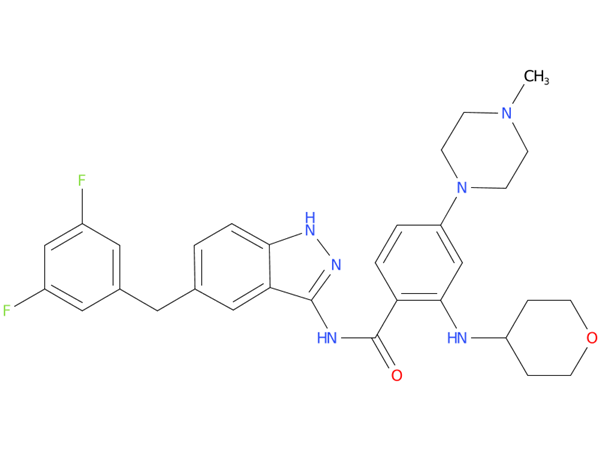 | | |
| --- | --- |
| Drug Profile | Entrectinib is an inhibitor of the tropomyosin receptor tyrosine kinases (TRK) TRKA, TRKB, and TRKC (encoded by the neurotrophic tyrosine receptor kinase [NTRK] genes NTRK1, NTRK2, and NTRK3, respectively), proto-oncogene tyrosine-protein kinase ROS1 (ROS1), and anaplastic lymphoma kinase (ALK). |
| Alternative Names | Entrectinib – Ignyta; NMS-E628; RG 6268; Rozlytrek; RXDX-101; TrkA/TrkB/TrkC/ROS1/ALK inhibitor – Roche |
| Originator | Nerviano Medical Sciences |
| Developer | Alliance for Clinical Trials in Oncology; Chugai Biopharmaceuticals; Genentech; National Cancer Institute (USA); Roche; University of California at San Francisco |
| Class | Antineoplastics; Benzamides; Fluorinated hydrocarbons; Indazoles; Piperazines; Pyrans; Small molecules; Tumour-agnostic therapies |
| Mechanism of Action | Anaplastic lymphoma kinase inhibitors; ROS1 protein inhibitors; TrkA receptor antagonists; TrkB receptor antagonists; TrkC receptor antagonists |
| Orphan Drug Status | Yes – Neuroblastoma; Colorectal cancer; Solid tumours; Non-small cell lung cancer |
| Patent Information | There are fourteen patents protecting this compound. Entrectinib has one hundred and fifteen patent family members in twenty-nine countries. |
https://adisinsight.springer.com/drugs/80003923
Contact us to help you access the Lao pharmaceutical industry
RxLibra started its entrepreneurial journey with the vision of advancing the Lao pharmaceutical industry and becoming a global company. RxLibra is the first company in Laos to focus on exporting life-saving cancer drugs to Asia, Africa and Latin America.

Click & Contact us 👇
---
The WTO's Council for Trade-Related Aspects of Intellectual Property Rights (TRIPS) :Under this license, the Lao pharmaceutical industry, as well as the pharmaceutical industry in similar countries(Bangladesh, Nepal, etc.), will be able to manufacture many drugs without patent authorization.

Reference:
《WTO members agree to extend drug patent exemption for poorest members》https://www.wto.org/english/news_e/news15_e/trip_06nov15_e.htm
《Product Patent Protection, the TRIPS LDC Exemption and the Bangladesh Pharmaceutical Industry》https://www.twn.my/title2/IPR/pdf/ipr17.pdf