About Non Small Cell Lung Carcinoma (NSCLC)
Non-small-cell lung carcinoma (NSCLC) is any type of epithelial lung cancer other than small-cell lung carcinoma (SCLC). NSCLC accounts for about 85% of all lung cancers. As a class, NSCLCs are relatively insensitive to chemotherapy, compared to small-cell carcinoma. When possible, they are primarily treated by surgical resection with curative intent, although chemotherapy has been used increasingly both preoperatively (neoadjuvant chemotherapy) and postoperatively (adjuvant chemotherapy).
2 kinds of targeted drugs for the treatment of About KRAS-mutated non-small cell lung cancer can be made in Laos
Targeted therapy
Targeted therapy is a type of treatment that uses drugs or other substances to identify and attack specific cancer cells. Targeted therapies usually cause less harm to normal cells than chemotherapy or radiation therapy do. Monoclonal antibodies, tyrosine kinase inhibitors, and mammalian target of rapamycin (mTOR) inhibitors are three types of targeted therapy being used to treat advanced, metastatic, or recurrent non-small cell lung cancer.
KRAS G12C Inhibitors:
The KRAS G12C inhibitors, such as sotorasib and adagrasib, have been designed to bind to the protein's mutant structure and block KRAS G12C in its GDP-bound inactive state. Phase 1/2 trials have shown promising anti-tumor activity, especially in pretreated non-small cell lung cancer patients.
1, Sotorasib
A drug used to treat adults with non-small cell lung cancer that has spread and has a certain mutation (change) in the KRAS gene. It is used in patients who have already received at least one other systemic therapy. It is also being studied in the treatment of other types of cancer. Sotorasib blocks a protein (KRAS p.G12C) made by the mutated KRAS gene, which may help keep cancer cells from growing and may kill them. It is a type of targeted therapy. Also called Lumakras.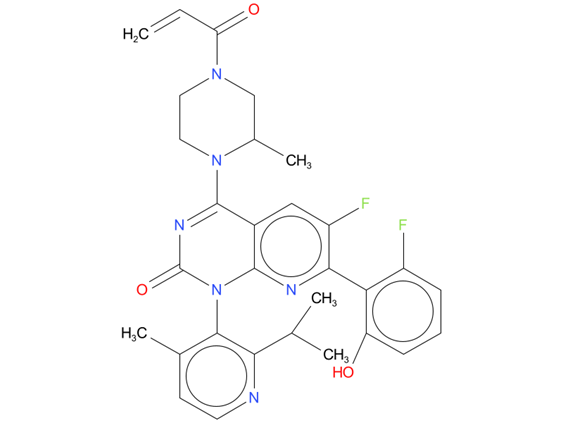 | | |
| --- | --- |
| Drug Profile | Sotorasib is an inhibitor of KRASG12C, a tumor-restricted, mutant-oncogenic form of the RAS GTPase, KRAS. Sotorasib forms an irreversible, covalent bond with the unique cysteine of KRASG12C, locking the protein in an inactive state that prevents downstream signaling without affecting wild-type KRAS. Sotorasib blocked KRAS signaling, inhibited cell growth, and promoted apoptosis only in KRAS G12C tumor cell lines. Sotorasib inhibited KRASG12C in vitro and in vivo with minimal detectable off-target activity. In mouse tumor xenograft models sotorasib-treatment led to tumor regressions and prolonged survival and was associated with anti-tumor immunity in KRAS G12C models. |
| Alternative Names | AMG-510; LUMAKRAS; LUMYKRAS |
| Originator | Amgen; Carmot Therapeutics |
| Developer | Amgen; REVOLUTION Medicines |
| Class | Antineoplastics; Piperazines; Pyridines; Pyridones; Pyrimidines; Small molecules |
| Mechanism of Action | KRAS protein inhibitors |
| Orphan Drug Status | Yes – Colorectal cancer; Non-small cell lung cancer |
| Patent Information | There are two patents protecting this compound.Sotorasib has fifty-nine patent family members in thirty-one countries. |
https://adisinsight.springer.com/drugs/800052645

2, Adagrasib
Adagrasib (INN, codenamed MRTX-849), is an experimental cancer drug being developed by Mirati Therapeutics. It acts as a covalently binding inhibitor for a mutant form of the protein KRAS called G12C, which is commonly present in various forms of cancer and acts as a growth factor. It has shown promising results in pre-clinical testing and is currently in clinical trials.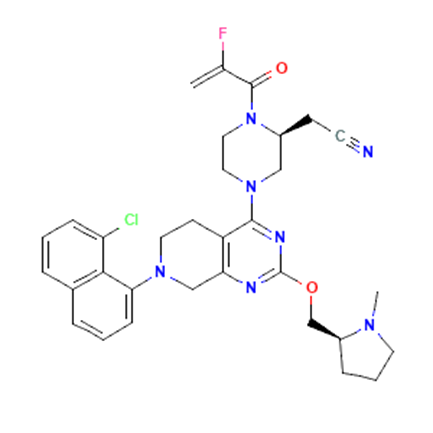 | | |
| --- | --- |
| Drug Profile | Adagrasib is an investigational, highly selective, and potent oral small-molecule inhibitor of KRAS G12C that is optimized to sustain target inhibition, an attribute that could be important to treat KRAS G12C-mutated cancers, as the KRAS G12C protein regenerates every 24-48 hours. |
| Alternative Names | MRTX 849 |
| Originator | Array BioPharma; Mirati Therapeutics |
| Developer | Mirati Therapeutics; Novartis; Verastem Oncology; ZAI Lab |
| Class | Acetonitriles; Antineoplastics; Halogenated hydrocarbons; Naphthalenes; Piperazines; Pyridones; Pyrimidines; Pyrrolidines; Small molecules |
| Mechanism of Action | KRAS protein inhibitors |
| Orphan Drug Status | Null |
| Patent Information | Null |
https://adisinsight.springer.com/drugs/800053718
Contact us to help you access the Lao pharmaceutical industry
RxLibra started its entrepreneurial journey with the vision of advancing the Lao pharmaceutical industry and becoming a global company. RxLibra is the first company in Laos to focus on exporting life-saving cancer drugs to Asia, Africa and Latin America.

Click & Contact us 👇
---
The WTO's Council for Trade-Related Aspects of Intellectual Property Rights (TRIPS) :Under this license, the Lao pharmaceutical industry, as well as the pharmaceutical industry in similar countries(Bangladesh, Nepal, etc.), will be able to manufacture many drugs without patent authorization.

Reference:
《WTO members agree to extend drug patent exemption for poorest members》https://www.wto.org/english/news_e/news15_e/trip_06nov15_e.htm
《Product Patent Protection, the TRIPS LDC Exemption and the Bangladesh Pharmaceutical Industry》https://www.twn.my/title2/IPR/pdf/ipr17.pdf